Disclosure: Every product you see here has either been used by us or independently selected by (obsessive) editors. As an affiliate of Amazon, Anything purchased through our links may earn us a commission at no extra cost to you. 
Mud sports are generally defined as outdoor multi-participant events that primarily take place outside and in natural settings which are associated with an aggressive disruption of the soil or mud on which they are executed. They are tedious and strenuous events that are associated, in most cases, with the participants getting cold, wet, cut or even bruised and highly injured.
The high tendency of injuries is further exacerbated by the presence of rocks and other debris in the race-course or arena from which cuts or abrasions may occur thereby producing likely infection sites from environmentally acquired microbes. Consequent upon these risks, there is a need to have policies in place for these events so that people will continue to enjoy them with relative safety.
This brings us to the question, Can You Go To A Mud Run Unprepared knowing what to expect in them like the harsh weather, sudden rainfall,  likely injuries and the need for available first aid at all times? The answer is capital NO
In anticipation of all these eventualities, we have to dress appropriately for the occasion, take along with us certain unavoidable items like a well-stocked first aid kit and some cash.
Protective gear will also come in handy, like Elbow pads to protect your elbow, good quality compression socks, a trail running shoe, shirts (such as this Long Sleeve Rash Guard), a hydration pack.
A knee pad, for instance, can protect you in the event of a fall or even direct collision or sudden skids off track during the race. It is therefore highly inadvisable to go for any mud run unprepared and I am sure you agree. Therefore one must not go for any mud run unprepared. (Read Also: How To Train For A Dirty Girl Mud Run)
Mud runs are as varied as the conditions under which they must be undertaken and for reasons of time and space, we shall only discuss a few to make our points clear for everyone. One thing they all have in common, however, is the high likelihood for injuries due to accidents because of their physically demanding natures. Some of these events are:
1. The Muddy Buddy
The mud buddy which emphasizes running a race along a track laden with man-made obstacles and mud.
 This is an event that is not technically speaking a race since it is instead focussed on teamwork and completion of the event rather than finishing it within any specifically given length of time. It usually has courses between ten to twelve (10-22) miles and contains several military-style obstacles on the track.
Read Also: How To Build A Mud Run Course In 2021
3. Battle Frog
This event features an eight-kilometre course and at least twenty five obstacles along the way that are designed to evaluate the endurance of the participants as they scale these obstacles one after another while trying also to beat the time allotted for the race.
4. The Bone Frog
The bone frog is a mud race that consists of about fifty navy seal-style obstacles on courses that range from three to nine miles. Bone frog also offers an endurance lap course and a three-race Trident Series option.
5. Savage Race
It offers about fourteen races in a year and has two types of races all in all which are: (1) the savage race that has twenty-seven obstacles and a distance of between five to seven miles and (2) the savage blitz which on its own has between fifteen to twenty obstacles and is run for a distance of about three miles or more.
6. The Rough Runner
It features an event with multiple distance options to cater for a wider array of fitness levels with a five-kilometre, ten kilometre or fifteen-kilometre courses to choose from. To reinforce the message of accessibility, the rough runner's obstacles are inspired by fun but challenging television game shows such as Gladiators, Ninja Warrior or Total Wipeout, with each event featuring The Travelator as the finish line obstacle.
7. The Legion Run
The legion run is the only obstacle course based in South-Eastern Europe which involves a five-kilometre course with at least fifteen obstacles along with a parallel all-day festival for both participants and spectators. Every participant that crosses the finish line is awarded a legion T-shirt and a drink, but there are no individual prizes and every participant choose to time themselves.
8. The Suffering Obstacle Race
This event offers obstacle races of distances varying from five, ten, fifteen and twenty miles.
9. The Warrior Dash
The warrior dash, quite unlike other activities, does not assign penalties for skipped obstacles and is thus often recognised as an obstacle course event rather than a race. It is a shorter event whose winning times may be as short as fifteen minutes and features many of the same obstacles found at other races such as mud crawls, water features and cargo net climbs.
10. The Chakravyuh Challenge
This event is named after the near-invincible battle formation from Indian mythology, Chakravyuha. The Chakravyuh Challenge is the first obstacle course race to be hosted in the state of Kerala in India. This event tests the participants' agility, bravery and problem-solving capability by pitting them against obstacles involving slush, water, ropes, inclined slopes, team-building exercises. fun mazes and much more.
11. The Tough Guy
The Tough Guy event was first staged in 1987 and it claims to be first official and toughest obstacle course race in the world which is held twice a year in summer and winter. This event requires competitors to compete in near-freezing temperatures and also contend with ice and snow as well. It is usually held on the last Sunday in January in Perton, Staffordshire, United Kingdom.
12. The Bog Commander
The bog commander combines fell running with obstacle course racing and mud running. It is reputed to be possibly the hardest and toughest off-road event in the United Kingdom. The event is set on a working hill farm in the spectacular Peak District. This course has been described as extreme and brutal by its participants whose terrains vary from one thousand two hundred feet to one thousand five hundred feet (1200 to 1500) and includes such varieties like the natural bugs, river runs, massive hills and rough terrain. Man-made obstacles, however, complete the challenge.
13. Getting Tough-The Race
This event has been holding since 2011 each year and on the first Saturday in December in Rudolstadt, Germany. It has been reputed to be Europe's hardest obstacle race and subsequently voted as The Best Obstacle Race in Germany.
It is a full weekend event that includes a Sprint Night on Friday and a huge After Race Party on Sunday which consists of a distance of twenty-four kilometres with one thousand metres elevation, one hundred and eighty obstacles and lots of icy water that results in runners suffering from hypothermia at the finish line.
The last three kilometres, known as the Killing Fields, are packed with obstacles and topped off by the 'Walk of Fame', a one-kilometre long obstacle park.
Trending Today
Can You Go To A Mud Run Unprepared – FAQ
How Do You Prepare For A Mud Run?
 Adequate preparation entails having with you everything you may require during an event to cater for all your needs. This may include your dressings for the occasion, medical supplies, refreshments.  A comprehensive study of what may likely happen and how to properly respond may be necessary before one embarks on such events as this will ensure adequate preparedness against any unforeseen circumstances. For assurances, it may even be necessary to take along extras of all necessary items just in case.
What Are Some Mud Runs Essentials?
Mud runs essentials may include relevant cloths to shield participants from excessive weather conditions like severe cold or extreme heat. Never underestimate the value of dressing right. Secondly, shoes worn for these occasions must have proper grip or friction to assist while climbing, running or riding. However, such shoes must not be too heavy or easy to pull off unexpectedly during activities.
Read Also: How To Clean Shoes After Mud Run With Steps
Additionally, despite the advice, try as much as possible to take extra gear just in case, there is the need to also have at hand whatever is necessary to mend broken or damaged articles. In essence, adequate preparedness cannot be taken lightly, if one must survive all possible challenges along the way.
Depending on the time of the year and expected weather conditions, dress to prevent the extreme cold or excessive heat with clothes/shirts that are not too heavy to slow you down. If the rains are expected, take along raincoats certified to be convenient for your needs. Similarly, shoes worn must be light with proper traction to facilitate easy movements and guard against exertion.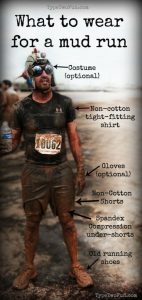 Bright, clear and close-fitting goggles may also be highly required against dust, dazzling effects of the Sun, possible injuries to the eyes and good visibility. Hand gloves (such as this Official Glove of OCR) may be quite useful to ensure a firm grip on surfaces as well as prevent abrasions from rugged articles. (You might what to check out this article on some of the best gloves for mud runs & other Ocrs in the market)
Your dressing, for these occasions, must be carefully selected or chosen to provide for all possible manner of contingencies. Finally, it may be quite advisable to, as much as possible,  adorn facial or nose coverings which are non-restrictive and permissive to easy breathing as protection against airborne germs. You can never be careful enough.
Can You Get Sick From Mud Runs?
Sure, you can. However, this sickness might be primarily due to injuries or bruises sustained during the events and the possibility of getting these wounds infected from contaminated items or even from person-to-person transmission of certain diseases. Transmission of diseases among participants is quite common judging by the fact that most of these events involve multi participants.
Furthermore, exposure to severe and very unfriendly natural conditions may elicit the development of all kinds of health challenges. In a nutshell, you can get really sick from mud runs. However, we have said enough to enable you to minimize it, even though you can't totally stop them. There are also other ( though thankfully negligible) means of getting sick which might have to do with ill-fitting kits and the repeated use of dirty or poorly maintained clothes that may be contaminated.
This may sound far fetched, but I have seen its consequences first hand and so I believe it deserves whatever attention it gets. Clean and store your events gear after each use to prevent undue infection as well making sure to always get the best fit since failure to do this may leave you prone to nasty sickness and avoidable consequences.
How Many Miles Is The Mud Run?
The mud runs have several distances set before the participants depending on the kind of events. In other words, the lengths are not fixed but depends on the event in question. However, the ranges extend from one mile to several miles. The lengths of these races (in most cases) are determined by the use of obstacles or not; races without obstacles on their paths tend to be longer than those whose paths are replete with obstacles. However, as a rule, their lengths vary according to their types and the endurance tests they are meant to evaluate in the participants.
Now that we have studied these races or events and have also seen what it takes to participate in them and the requirements needed, we shall endeavour to study some indispensable articles of clothing that must be handy whenever we plan to embark on these events. What is more, these suggested wears (and their prices) are readily available at Amazon.
Mud runs involve sprints across obstacles as well as struggle against rocks and all manner of debris. For these purposes, participants require indispensable footwear that will stand all manner of stress and rigours without fail. This pair of unique shoes are:
ASICS Men's GEL-Venture 5 Running Shoes
Features
Made of durable material which inadvertently means that they can withstand getting wet easily and hence are ideal for activities in the rains or in muddy or watery terrains. That they are crafted from refined materials makes them highly attractive and very presentable as gifts that would definitely be appreciated.
In addition to being abrasion-resistant, these shoes are also having tough overlays that make them stain and oil resistant as well. In essence, this means that they retain their attraction regardless of continuous use in rugged terrains.
They are most suitable for extreme impact protection, are comfortable, flexible and light. They are reputed to absorb more than ninety per cent of energy when impacted at high-stress rates.
It comes with a rubber outsole that provides maximum traction, comfort and performance. In other words, the shoe's soles, insole and upper are bound using resoleable Goodyear Welt construction processes, the most labour intensive and durable construction method available.
As proof of its quality and class, it is sold with a very friendly and unique warranty and guarantee terms which ensure that you are either given a complete refund or a replacement of defective items, whenever you so desire without any fuss.
These shoes are light for effective and convenient movements to facilitate excellent performance at all times. They are a must-have for runners, mountaineers and all those who desire durability and ease of movements in sports or races.
2. Salomon Men's Sense Escape Two Trail Training Shoes
Mud runs are strenuous and physically very demanding activities associated with sudden falls, direct head-on collisions, as well as impacts with hard surfaces or rugged items. For these reasons, physical injuries ranging from minor bruises to severe lacerations are very common indeed. Of all these risks, head and foot injuries stand as probably the most debilitating of all.
It is therefore pertinent that we guard against them as much as we possibly can with the use of a reliable pair of tested and trusted mud run shoes. In addition to other countless positive attributes, these shoes are known to have incredible attributes such as:
Features
They are hand made with the best available materials which guarantee their durability even with continuous use and in the most extreme circumstances, as is common in mud runs.
The shoes are also known to be painted in long-lasting, as well as stain and dirt resistant colours, which are assured to remain as brilliant and as new when washed properly after use.
Their soles are made from very hardened and refined rubber which in addition to being resistant to chemical attack, are also known to be shock absorbent thereby reducing the impact from jumping, climbing or even falling from heights.
As a testament to their reliable qualities, they are covered by very friendly and lengthy guarantee and warranty terms to ensure customer satisfaction at all times.
Their AHAR outsole rubber which comes very handy in tough and critical high wear areas is another very attractive feature of these shoes. In addition, these trail-specific outsole comes with a reversed traction lugs.
3. Bodyprox Protective Knee Pads
Features
This pair of knee pads are not only unisex, but are equally made from scientifically proven combination of polyester, rubber and EVA, but they are latex-free which would have otherwise compromised their strength.
They are made up high density strengthened foam with high elasticity and breathable fabrics which keep the skin dry and comfortable.
They are assured to facilitate great grip and they are equipped with non-slip features. They can also be easily worn with no need for constant adjustment since it firmly hugs the knee.
They protect and prevent knee injuries during races while keeping you warm without the fear of stiff joints and muscles.
They are covered with attractive after purchase agreements to protect customers from unnecessary loses in which replacements and complete refund of money spent is assured, provided the item is untempered with.
Can You Go To A Mud Run Unprepared – Conclusion
Mud runs are events that take place outside and in terrains that can expose us to danger and harm especially since they are rigorous by nature. However, to justify a complete coverage of the subject matter, we have endeavoured to discuss their types, natures, requirements, possible injuries (and how to reduce and treat them whenever they occur) since we can't prevent them altogether.
That these events come with varying lengths and obstacles shows they aim to test or expose participants to various levels of endurance. Ignorance, after reading this exclusive post, cannot be claimed or blamed for any mis-preparation and possible consequences thereof.
The importance of all this cannot be overemphasized especially with due recourse to how important physical exercises are in our well being and overall health. We should strive to do well, whatever that is worth doing at all, at least so the legend goes.