Disclosure: Every product you see here has either been used by us or independently selected by (obsessive) editors. As an affiliate of Amazon, Anything purchased through our links may earn us a commission at no extra cost to you. 
After every mud run, the participant is required to clean up his/her gear in readiness to when next they will be required again. To ensure effectiveness, therefore, such clothes and shoes are supposed to be cleaned without delay after use, lest the stains remain permanently.
So How Do You Clean Up After A Mud Run? For effective cleanliness, the shoes can either be hosed cleaned immediately or left outside to dry before doing so and for clothes, they can also be hosed with clean water to reduce the mud or grime on them first before they can be introduced into the washing machine to be washed along with other clothes.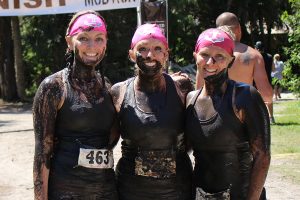 The reduction of mud by hosing using tap water should be done in any outdoor space to avoid smearing or staining the bathtub with mud. However, it is advised that these clothes are separated into segments by purpose and durability. For example, socks, gloves and underwears can be washed separately from towels and other top layers of clothing that are likely to be deeply stained.
Finally comes shoes and their hydration packs. This staggered washing technique is basically meant to avoid the possibility of staining less mud-splattered clothes by highly stained ones. Therefore, the washing can be done by separating them accordingly before finally putting them together in the washing machine after rinsing them of deep stains.
For those who may not use the washing machine, after rinsing highly muddied clothes, they can then be mixed with other items of clothing for general washing in a bucket or pail. The principle is basically the same, with or without the wash machine, but the result is satisfaction whichever one we use.
Trending Today
Things To Do After A Mud Run
The first thing to do after taking off your shoes is to clean them up. Regardless, however, caked mud or stones (that are caught in the thread of the shoes) are things that must be removed before you store your shoes. We shall discuss the cleaning of shoes in greater details later.
To clean clothes, you must first reduce the mud and other stains on them before mixing them up in the washing machine with other clothes. This way you will avoid dirtying up the bathtub or even the wash machine and equally prevent staining other clothes in the machine.  Allowing these clothes to dry before cleaning will allow the mud to dry and will mean you have a tougher problem to deal with.
Therefore, you are advised to dump all dirty clothes and gear into a dry bag right after the race, change into clean clothes and then as soon as possible, rinse them in the backyard first before throwing them into the washing machine along with other clothes. This way you are sure to avoid staining other clothes and also the washing machine with muddied race clothes.
Socks specifically must be rinsed before being thrown into the machine or all the dirt they have accumulated may just sit in the machine and seep into the rest of your laundry. Be warned against putting your gear into the dryer which can cause the deterioration of your hydration pack seals and the quality performance of your athletic clothes.
Like most Spartan things, the longer dirty gear sits wet and dirty in a suitcase, the stinkier they will get and the more difficult they will be to wash thoroughly clean. To ensure the effectiveness of cleaning race clothes, it is important to select stain-resistant fabrics that are easier to wash like polyester and elastane blends but not cotton.
Also do not bleach your muddy clothes (even though there are some colour safe bleaches) and also use any detergent that is meant for very dirty clothes. Those detergents higher in alkaline contents are adjudged more effective since they break down naturally occurring matter such as sweat, blood or even certain compounds found in mud.
They are marketed as sports detergents. Warm water should be used in the washing to allow for a deeper clean while still protecting the clothes' fabric. Finally, before open drying them, do a spot check; make sure you are happy with your stain removal efforts before drying them. If you see any remaining stains, repeat the wash until stains are removed, then dry.
How Do You Clean Up After A Mud Run – FAQ
The choice of the best shoes to wear for a mud run obstacle course is dependent on many factors.  The most notable of which is its weight because heavy footwear bug you down thereby slowing your movements and getting you tired easily. Second is the fact that good shoes for mud runs must have strong and prominent threads to accord good traction and friction during movements.
In addition, such shoes must be stain-resistant and thus easy to clean after use. The materials from which they are made must be durable and hence should be able to withstand the effects of mud, water and other soil contaminants. Finally, they must have colours that blend with stains thereby making them less visible and also they should have provisions in their designs that will allow air to aerate the legs and cool them down. (This shoe, ALTRA Lone Peak 4.5 Trail Running Shoe meets all the above requirements)
How Do You Wash Shoes After A Spartan Race?
Cleaning shoes and hydration packs after races is the most irritating and time-consuming part because they tend to be exclusively covered in mud. There are mainly two approaches to washing race shoes effectively. The first involves keeping mud-encrusted shoes outside after races to dry. After giving it a day or two, the mud should be dried enough to shake away by simply hitting one shoe against the other which will make the dirt drop off.
Finally, you should stir the shoes in a bucket filled with warm water and dishwashing detergent. Once that is done, shove it into a washing machine and let it spin in regular detergent. This process is easier and faster to get your shoes recovered like new.
The second method requires that after the race, you take them off and hose them down with water right inside to make sure that any mud anywhere is washed out. Next, spray the outside of the shoes with water until all the mud and rocks have come loose. Dampen any loose water out and then dry the shoes before your next mud race.
To ensure effective dryness, you may have to remove the insoles of the shoes if they will come out and then stuff the shoes with newspapers. Once the papers soak up all the water in your shoes, change it out with more dry newspapers. Repeat the process until the moisture is completely gone.
For reason of share effectiveness and proper hygiene however, it is advisable to wash your shoes immediately after use as against allowing them to dry outside first to remove the mud before washing finally. This has the advantage of not allowing fungus or mould to attack your shoes which may affect its durability besides the nauseating stench associated with unwashed shoes.
Yes, it does especially since these race shoes are frequently exposed to excessive stress, wear and tear, not to mention coming in constant contact with water in the soil or mud. This case is worsened by the fact that as your shoes come in regular contact with water in the mud or soil, they are in effect making contact also with chemicals in the soil that can break down the fabric and soles of your running shoes which reduces their life spans. Inarguably, the tough mudder ruin shoes.
What Are The Best Shoes For Tough Mudder?
The best shoes for tough mudder are those that are not only durable and long-lasting, but that are also easy to clean and are resistant to chemical degradation with which they make contact in the soil. (Shoes like the Salomon Men's Sense Escape 2 Trail Running shoe will not easily degrade over time). Some of these chemicals in the soil and mud attack the soles and fabric of your shoes and destroy them which reduce their life spans.
Such good shoes, especially when the correct sizes are bought, do not pull off the legs no matter the severity of stress. Furthermore, they are equipped with designs to provide your legs with the necessary cooling effects thereby reducing tiredness. They are light which makes them easy to use for long and permit maximum freedom of motion in all terrains. Their colours are so chosen that stains blend with them and become more or less invisible to casual observation.
To ensure that our mud run gears are not only durable but are also convenient to wear, we will endeavour to introduce certified items that are guaranteed to serve you efficiently without fail which are available at Amazon. Some of these highly recommended and most loved wears are:
1 Salomon Men's Sense Escape 2 Trial Running
These highly refined and rubber-soled shoes have a VIBE midsole in the heels that absorbs more vibrations thereby improving the runners' overall comfort. Additionally, the trail running specific, the decoupled midsole and the outsole adapt to varying terrains. It is so designed that it is inspired by the highest performance models while the Contagrip outsole provides ultimate grip on all terrain types. For short, it is an ideal tool for fun in races with maximum benefits.
Read Also: Salomon Speedcross 3 Review – Reasons To Buy/Not To
This mud run shoes are kitted with a one hundred per cent synthetic fibre with refined and scientifically tested rubber sole. It is highly recommended for an outdoor-ready runner with mesh and brushstroke patterned underlays. For more effective traction, it bears a rearfoot GEL cushioning with a removable sock liner to enhance cleaning without stress which also accommodates medical orthotics. The AHAR outsole rubber is also ideal in critical high wear areas during mud races without any discomfort. Its trail-specific outsole also has a reverse traction lug for more effective manoeuvrability.
3. Fit Four OCR Slit Grip Gloves, Official Glove of OCR Obstacle Course Racing and Mud Run Hand Protection
Although this doesn't fall in the shoe category but it's something you need for any OCR. It has a compression fit design that prevents the gloves from bunching with expandable and ribbed wrist wrap that helps prevent injury while at the same time allowing wrist movements. In cases of sudden unexpected falls, the gloves can reduce the impact from such falls and hence the possibilities of injuries during such occasions. These exquisite gloves can be bought at affordable prices on Amazon.
How Do You Clean Up After A Mud Run – Conclusion
Mud runs are reputed to be rigorous outdoor events that are associated with many frequent and expected injuries which demand for extreme caution. While trying to equip ourselves for such events  Firstly, we must decide on kits or items which will cushion the effects of sudden falls or impacts with solid or hard substances thereby minimizing the injuries from such contacts.
Furthermore, they are said to equally involve a lot of wear and tear which demand that you only buy those kits that can withstand this much stress. If the overall knowledge you acquire in this post is put to good and effective use, you are likely to prevent unnecessary waste by buying durable items as well as reduce the severity of the unavoidable injuries you may likely to suffer.
This makes it highly imperative that you put what you have learnt herein to good use as a panacea against possible regret afterwards. If that is done, the purpose for this wealth of information has certainly achieved that for which it is intended.
So that's all you need to know about how to clean up after a mud race or any obstacle race. If you have any more question regarding this topic don't hesitate to leave a comment below.