Disclosure: Every product you see here has either been used by us or independently selected by (obsessive) editors. As an affiliate of Amazon, Anything purchased through our links may earn us a commission at no extra cost to you. 
Thousands of people gather for mud racing events irrespective of the location and weather. Many see it as an opportunity to test their sheer will and strength to go over obstacles and hurdles in thick mud and daring circumstances. Considering the nature of mud racing events, one might want to know if it's okay to delve into the mud with a $700 apple wristwatch. Would it be safe? would there be consequences afterwards? This brings us to the obvious question.
Can I Wear My Apple Watch On A Mud Run? Well, the answer is yes. Your iPhone watch would be safe should you intend to use it in mud racing events, in other to take note of your progress while going through the hurdles.
Albeit, there are some important things to consider (like the use of an iPhone apple watch protector) before embarking on such races with your watch.
Apple Watch Protectors And Their Relevance In A Mud Runs & Other OCRs
Here are some iPhone watch protectors that have been recommended by other mud runners in the past. They prevent your watch from any scratch that it might encounter in the course of the race.
And if your iPhone watch falls in the earlier series released, here are some iPhone watch protectors that have also been recommended by fellow mud runners.
As stated earlier, using your Apple watch without a protector is okay in its own right, but to ensure the total safety of your watch, try getting an apple watch protector to ensure that not only will your watch be safe, but also clean in the course of the mud run.
An apple watch protector will also give you enough time to focus on the race at hand without having to wonder if your watch is doing okay on your wrist, and for anyone who has participated in a mud racing event or in any racing event, in particular, you will agree with me that total focus is necessary, in other to achieve the full objectives of a race.
They come relatively cheap and have no side effects whatsoever on your watch. Your apple watch would still be able to carry out its normal functions whilst being protected in the process. They are also very easy to install and remove, so you can be sure to do it on your own without any stress.
These watch protectors would ultimately protect your watch against the rugged nature of obstacle racing. You really do not have anything to worry about with these on.
Do note that it shouldn't be used when you want to go for a deep dive into the pool. Relax! You have nothing to be scared of. It's just that it might trap some of the pool water under the glass, but in such a case, simply remove the watch protector and wipe off the trapped water on your watch screen, fix it back and you are ready to go! In a situation where your watch is caked up in the mud, how do you go about it?
Is iPhone Watches Water-Resistant?
Apple watches are generally water-resistant, but it varies from the edition though. The 1st three editions are not as resistant as the other ones and this is because they can only be resistant to rainfall and quick water immersion. Submerging it in water, however, is quite a tricky ball game. But since you are not expected to keep your hand in the mud, you can as well go ahead with it.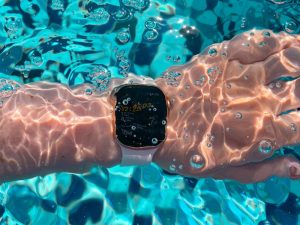 However, while the later editions of iPhone watches have a higher resistance to water, you are advised to avoid immersing it in depth below 1 meter.
This is because the pressure after 1 meter of submersion is enough to damage the watch. Once again, you need not worry, tough mudders are definitely always less than a meter. So your watch is safe in this regard.
Trending Searches
Can My iPhone Watch Withstand The Beating That Comes With Mud Racing?
For mud races, in particular, there has been an advert from Apple about a boy who ran his first-ever mud obstacle race and took the record of his progress using his apple watch (series 3 in particular). Judging from the Ad, he was pretty much covered in mud and dirt without affecting the watch he was wearing. If this is not enough to calm your nerves, then I wonder what will.
Also, testimonies from mud racing participants have also had nothing but praise for the iPhone watches, so you should have your fears subdued, even though I know how it feels to carry such an expensive item to a mud race. But I guess that's what it was built for right? Or else, the commercials wouldn't have portrayed the mud scenery.
Things You Should Do Before Embarking On A Mud Race With Your iPhone Watch
To ensure that your valued treasure is safe during the course of your mud race, see to it that you implement these safety guides.
Ensure that the watch is firmly tight to your wrist so that it doesn't get caught or entangled in a piece of branch or a plant during the race. Do not allow any space for it to dangle on your wrist in the course of the race.
There have been cases of runners not getting their mud running results due to their watches dying on them in the course of the race. Do well to charge your watch fully in other to avoid such Stories. iPhone watches can last as long as 18 hours when fully charged, so you can be sure to have all your race data, provided it is charged to its maximum capacity.
You probably might be wondering if the touch sensor on your watch screen might still function effectively after the race, the answer is yes. All you need to put your mind further at peace is to get a watch protector, an apple watch protector to be precise. This would help in safeguarding your screen against scratch and other mayhem you might be afraid of.
How Do I Clean My Apple Watch After A Mud Run?
If there is one thing you can't avoid, it is the fact that you will be stained in every way with mud after a mud race. So you can as well prepare for it already. Your apple watch will not be exempted.
Protective case or not, follow these simple but effective steps to ensure that your watch is thoroughly free from any form of mud after the race.
Ensure that the screen is locked by turning the crown button, then gently clean the mud off the screen, or screen protector. Do not hit your watch on your palm or any surface, in particular, to get the mud off.
Do not use soap of any kind to clean. Apple has warned against it and you could end up voiding your warranty. Instead, use warm water (room temperature) or slightly cold water, but not hot water so that you don't damage the seals.
Avoid using a brush to wipe away the mud on the screen except you have a screen protector in place. This could scratch the screen or the strap in the process. Instead, place the watch directly under a water outlet with relatively high pressure and watch all the dirt come out. You could use your thumb to gently wipe the surface in the process.
Be careful with your quartz counter especially if you are cleaning your watch in your kitchen sink, you could easily scratch the face of your watch in the process except of course you have a protective case. Now you see why you should get a protective case right? It keeps you worry-free!
Here are some OCR watches that are recommended for you. They have met all these criteria stated below and will only set you back a few bucks. They are sure to come in handy when you need them to be.
If you were of the illusion that the apple watch was the only OCR watch available, then I strongly advise that you snap out of it and face reality. There are really very good OCR watches that will rival your apple watch any time, any day.
Albeit, there are some things to consider aside from the brand name to ensure that you get your money's worth in any purchase you will make as regards OCR watches.
1. Water-Resistant And Most Importantly Mud Resistant
Most of the watches on the market are water-resistant, but just a few can be said to be mud resistant. The mud resistance in question here is not just the muddy water, but the dirt that accompanies it. So the watch would have to be sealed extremely tight and have a cover to close the USB port so as to prevent mud from getting stuck in it.
2. Tough, Resilient, And Durable
A good OCR watch should be durable to withstand the beatings that come with mud racing. Mud races are known for their rough and tough courses due to the obstacles that are placed on the paths.
So it's important that not only you, but your watch withstands all the challenges that mud racing will throw at you.
3. The Battery Life Of The OCR Watch
There are some OCR watches that can stay close to a week without you having the need to charge them, while the same watch will only last for a few hours. Why is that you might ask?
Well, the longevity of an OCR watch battery will always depend on the features that you choose to turn on or off. For instance, reducing the brightness of your screen will go a long way in preserving your battery life.
Here are some other things that can help you save your battery life for a more enjoyable experience.
Change the watch display from animations to a static picture if you notice it drains your battery than it should.
Turn of unnecessary notifications that are not useful to you at the moment.
Limit the use of Wi-Fi if the need is not necessary. It doesn't have to always be on.
Turn off the "always-on" feature. You can always get what you need from your watch by tapping the screen of your phone.
Having said all that, your OCR wristwatch should still be able to serve you for a long while without you always charging it. Irrespective of the features on display, it should be able to last for at least 18 hours.
Read Also: Best Camera For Mud Run, Tough Mudder & Spartan Race In 2021
4. It Should Have A Route Tracker
If your OCR watch does not have a route tracker, then it is not complete. Route tracking is an added function in OCR watches that enables you to collect the route map alongside your running data such as your running pace, stride length, heart rate, and other relevant details it will provide.
After your race, you can easily visualize your running route on a 3D map, as well as upload a map of the course you intend to participate in. This feature is an added bonus especially in areas that do not have trail markers that are visible to the eye.
5. Calories Checker/Counter
Perhaps you are running to reduce weight and burn out excess calories in the process, a good OCR should tell you how much calories you have burnt in the course of the race, which will, in turn, help you to follow a particular diet or nutrition plan.
6. It Should Have Accelerometers
This feature is important for runners who want to have precise data from their training that will help them to improve their running forms. Accelerometers help you to track your movement if you are using a treadmill instead of a normal running track.
7. It Should Have A VO2 Max Reader And A Lactate Threshold
The VO2 max is a measurement that is used to track the amount of oxygen you can use in a run. This helps to ensure that you know when to catch a breath while running. The average VO2 max for males is between 35 to 40, while that of females is between 27 to 30
Some have tended to confuse the VO2 max and lactate threshold. A lactate threshold helps in identifying your running pace to ensure that you don't generate too much lactic acid than your muscles can consume. A good OCR watch should be able to help you with all of these.
8. It Should Have A Good Bluetooth And Wi-Fi Feature
While some would feel using a USB cable to connect your watch to a laptop or computer is a cool feature to have on a wristwatch, imagine not even having to use a cable at all to upload your running data to your computer, but just your Bluetooth. Cool right? You can even use the said feature to change the songs on your phone instead of tapping your phone to switch songs. A good OCR watch should be very handy.
OCR watches should also be able to connect seamlessly to your phone to receive messages and notifications from your phone, it should have a training mode to help with your training schedule and also create a nice workout plan. It should be able to monitor your heart rate and track your time. Great OCR watches are not just built for the wrist, they are built for companionship.
Can I Wear My Apple Watch On A Mud Run – Conclusion
Keep track of your progress on mud racing events irrespective of the price tag on your watch. You deserve to know how much you have put in, so as to raise the bar on the next event you participate in. There is always room for more!
So that is all you need to know about whether or not you can wear your apple watch to a mud run. If you have any other questions regarding this topic don't hesitate to leave a comment below.